Welcome to St. Francis de Sales Parish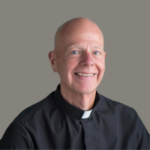 We are glad to have you join our Catholic Community of St. Francis de Sales as we try – in the words of St. Francis of Assisi – to be a channel of God's peace for others and a light for the Nations so all may see the glory and beauty of God in his creation as His Son Jesus Christ proclaimed. Our Community accomplishes this through our wonderful liturgies of family and friends from all walks of life coming together as Community around the Altar of our Lord. We as the people of God take responsibility to help each other carry our burdens in life; however not only our own parish community, but the community of the world.
We offer many ways to service as our mission guides us, to evangelize our adult community and our children through our school, youth ministry, and in general social justice concerns. Our mission is sustained through Hispanic ministries, adoration, prayer groups, faith enriching experiences, adult faith formation, various committees and organizations, and simply a call to grow spiritually to fulfill the command of the Good Shepherd to go out to all the world and tell the "Good News." Come and join us as we respond to the Lord's call through our involvement in the World of our God.
May God bless you always! Fr. Ray Guthrie
BIENVENIDOS A LA PARROQUIA San Francis de Sales
 Nosotros estamos muy contentos de que se unan a nuestra Comunidad Católica de San Francisco de Sales mientras intentamos, en palabras de San Francisco de Asís, ser un canal de la paz de Dios para los demás y una luz para las Naciones para que todos puedan ver la gloria y belleza de Dios en su creación como lo proclamó Su Hijo Jesucristo. Nuestra Comunidad logra esto a través de nuestras maravillosas liturgias familiares y amigos de todos los ámbitos de la vida que se unen como Comunidad alrededor del Altar de nuestro Señor. Nosotros, como pueblo de Dios, asumimos la responsabilidad de ayudarnos unos a otros a llevar nuestras cargas en la vida; sin embargo, no solo nuestra propia comunidad parroquial, sino la comunidad del mundo.
Ofrecemos muchas formas de servir a medida que nuestra misión nos guía, para evangelizar a nuestra comunidad adulta y a nuestros niños a través de nuestra escuela, el ministerio juvenil y, en general, las preocupaciones de justicia social. Nuestra misión se preserva a través de ministerios hispanos, adoración, grupos de oración, experiencias enriquecidas por la fe, formación de adultos en la fe, varios comités y organizaciones, y simplemente un llamado a crecer espiritualmente para cumplir el mandato del Buen Pastor de salir a todo el mundo y contar. "las buenas noticias." Ven y únete a nosotros mientras respondemos al llamado del Señor a través de nuestra participación en el Mundo de nuestro Dios. (Para nuestra comunidad de habla hispana, haga clic en la barra de herramientas de arriba que dice español para Registro Sacramental y Quinceañera)
 ¡Que dios te bendiga siempre! Padre Ray Guthrie